5 weeks till V-Day!  Can you believe it.
So had some Valentine's crafting fun!
I started by printing a heart on a 8.5"x11" paper.
Then I hammered in some nails about 1/4" a part around the heart.
Figuring out the pattern to wrap the twine took the longest.  I started by trying filling in the right section, but ended up going with an alternating pattern… left, right, left, right
Don't you love baker's twine!
And I love all the contrasting elements… cheery twine, metal and the textured wood.
A pretty piece of art for Valentine's Day.  Are you having fun getting ready for Valentine's Day too?
I've got another fun projects with Baker's Twine I'll be sharing with you tomorrow.
Thanks for stopping by!
Partying with Snap & Beneath My Heart!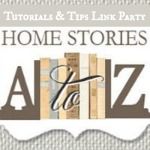 &copy Copyright 2013 Maryann @ Domestically Speaking, All rights Reserved. Written For:
Domestically Speaking