10th Power of Paint Party Spotlight…
I can't believe we've had 10 Paint Parties already…. where has the time gone!
Here's a few that I'm putting in the spotlight…
Curbside Creation did a beautiful paint job on her hutch.
Love the blue and creamy white cabinets that Shimmer & Tulle painted!
Simply Stafford has a simply, gorgeous bench!
LOVE this egg wreath the Crafty Sisters made.
Living in the 513! made her cute pineapple bookends a creamy white.
Check out this Dino Land Suitcase that At Second Street made!  What little boy wouldn't adore this!
All Thingz Related made some adorable magnetic frames.
Thank you all for your incredible paint projects!  If you haven't had a chance to check them out, click HERE.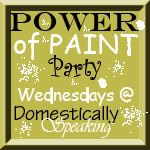 MckLinky will be back up Tuesday @ 7pm… I think MckLinky has been showing up a bit early because of some time zone issues over at MckLinky… hopefully they will have them resolved by then.
Have a GREAT weekend… we're heading off with the kiddos to California Adventure to use our 2fer!