Burlap'ing some Ikea Curtains
Edited ~ I'm joining Funky Junk's Saturday Nite Special!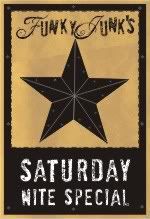 My son has had some basic navy blue Ikea curtains on his windows since we moved here 2 years ago.  I've been waiting to update (add to ) them since we moved, but never could find a fabric I loved.  I was originally thinking of doing a plaid or check print, but after seeing burlap all over blog-land I thought that it might make for a very interesting upgrade.
I measured my burlap (purchased at Wal-Mart), cut to the right size and ironed it.
Then I hot glued my strip of burlap right onto my son's navy blue curtains.
I put my hot glue line about 3 inches below the top of the burlap.  As you can in the pic above I wanted to fray the top couple inches.  I figured this fray could act as my trim.  Once it's glued down you just start pulling one string at a time till you get your desired thickness (make sure you have an idea of the thickness you want and put your glue in the corresponding place).
Here you can see how it's looking after removing about 8 rows.  I did about 2 1/2 inches of fraying total.
And here they are hanging in my son's room…
A close-up.. I love how it so perfectly matches the baseball gloves in his quilt.. nice when it works out.
I love how they turned out.  I love the texture they add to the room… I love the manly, roughness… and I love how easy & cheap it was to do.
I'm joining in Kimba's DIY at A Soft Place to Land… go check out all the other brilliant ideas.
Edit… I'm joining in with The Shabby Nest's Frugal Friday Party!