Kitchen Makeover Underway… Plans and Dreams
Happy Sunday Friends…. I am so excited to share that our kitchen makeover is finally underway.  Since we moved into our home 6+ years ago I've been wanting to paint our kitchen cabinets.  So today I've got some before shots to share… some for certain plans… and the dreams (those not certain plans) that I'd love to hear your thoughts on.
So there's a glance at my kitchen dreams.   Here's where I am at currently.  I just started priming the kitchen walls.
You can see the chaos has begun…
Good-bye green walls and maple cabinets!
First step… painting the walls!  Our kitchen walls and nook area are going gray.  I've picked out a gorgeous gray that's a beautiful gray somewhere between light and mid tone.  I think they will look gorgeous with the cabinets…
because our kitchen cabinets are going white!
can't wait to see how it looks.  It's almost a pure white but with a bit of gray undertone.   This week (if I can get rid of this head cold) I hope to tackle all the painting.  Easier for me mentally to have a week of craziness!
Countertops! Seems like there's almost as many options as paint colors now days.  Here's the direction I'm thinking.  For our main countertops something marble-like.  Mainly white with some gray tones.
And for our island I'd love to go with a dark butcher block.
The backsplash I'm still contemplating.  I'm hoping once the painting and counters are done it will be super clear to me.  Here's the options I'm considering though…
Glass Gray tiles or….
White subway tiles with gray grout
or gray subway tile with white grout
For the flooring I want to redo most of the downstairs with some beautiful engineered hardwood and bamboo.  Something on the dark side.
I love this handscraped bamboo
or something smoother like this engineered hardwood.
The accents and accessories is where I want to bring in that beachy feel.  Here's some lighting options…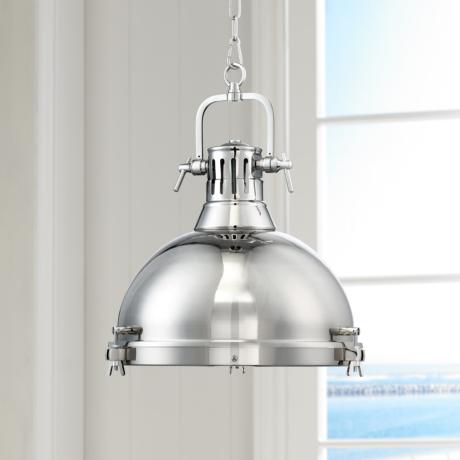 Beautiful chrome pendant light or
this beautiful oversized glass pendant. to place over the island or kitchen sink.
I'm planning for accessories in beachy blues and greens to tie it all together.  I'm super excited to finally be starting this project and I can't wait to share the process with you!