Master Bath Part 1… Mirror Makeover!
If you've been around my blog you know that one of my projects this year is giving our master bedroom/bath a makeover.  It still has white walls and other than having rearranged the furniture a few times… I haven't done much with it… mainly because of $$ and because I wasn't sure of the "look" I wanted. 
So here's what our master bathroom looked like before I started.
I know… very white! 
My starting focus is to change my boring, builder mirrors to look like custom framed mirrors.
Remember the molding deal I told you about that I used for my daughter's Pottery Barn Bulletin Board?  I've had a few people asking for more details.  This is a 5 pack of 7 foot pieces of molding that I found at Home Depot.  Here's a pic of the label on the molding. It is MDF and my Home Depot has it on the end cap and in the aisle.
My Home Depot has the 5 pack for $9.97… under $2 for a 7 foot piece… score!
So here's a little peak at the direction I'm going…
I taped the molding up to make sure all my angles and cuts were right and that it covered the mirror completely.
It's all down and in the garage now… ready for paint… so stay tuned…
Speaking of paint… Mr. MckLinky will be up this evening as we start the 10th Power of Paint Party!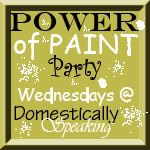 See you then!