Menu Board / Menu Planning…
A few years back I purchased this chalkboard from Ikea…
I just discovered when I went to Ikea's website, that this is magnetic too… who knew???
I painted the wood white and placed some paper along the back storage area, that complimented the paint in our dining nook.
I love having a weekly menu plan and I love having it posted on my cute board.  It helps me stay on track for pulling things out of the freezer and not struggling at 4pm to figure out "what's for dinner?"
During a week I will normally have at least 1 Crockpot meal, a Mexican dinner, a pasta dish, a bbq'ed entree, breakfast for dinner and a leftovers night.  I normally have one easy menu meal too… like hot dogs on Sunday. 
I also have the older kiddos dinner chores listed here.  They switch each week.  One does dishes and cleans and wipes down the counters… the other cleans and wipes down the kitchen table and sweeps the floors.  No confusion on who does what this way.
How do you organize your meals?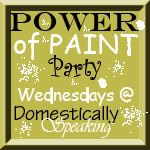 Power of Paint link up will start at 7pm tomorrow night (Tuesday).