Turn Dollar Store Bins into Stylish Storage
Carrie from Lovely Etc. here to share an incredibly inexpensive storage solution with you – turning Dollar Store Bins into Stylish Storage. I feel like I can never have enough bins and baskets to keep everything organized – from my son's blocks to our collection of phone chargers, there is always something that needs to be corralled. My absolute favorite containers are vintage crates, boxes, and buckets but those aren't always easy to find and they can get expensive. And if you need a matching pair, you can pretty much forget it.  So I set out on a mission to turn some cheap plastic bins from the Dollar Tree into vintage knock-offs storage.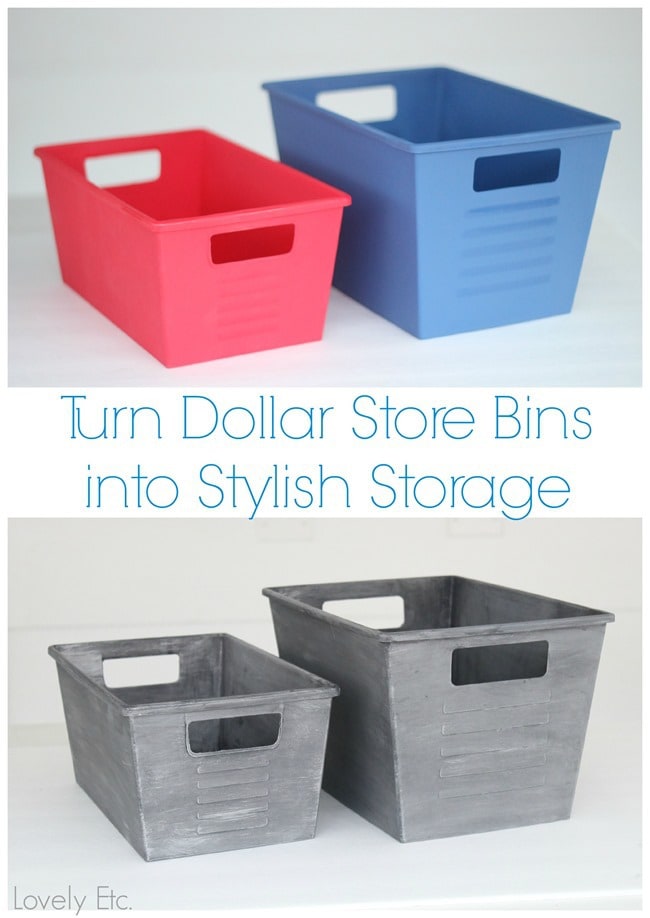 Here's the supplies you'll need: affiliate links included for your convenience (you can read here more)
Dollar Store Bins Supply List:
How to Make Cheap Storage:
I started with two plastic bins that look like lockers baskets and a plastic bucket. All in very bright, happy shades that are perfectly tucked away in a closet…but not exactly what I would want to use to decorate my house.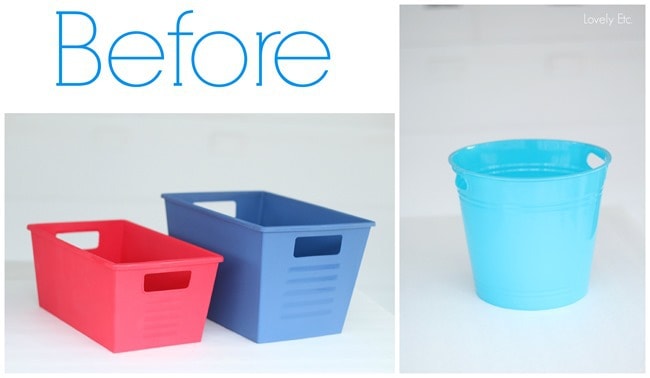 I really wanted to give them the look of aged metal and I was able to do that pretty simply using only three steps.  To get a really authentic aged metal look, you need gray automobile primer, chalkboard paint and silver craft paint.
I started with primer. I chose to use a gray automobile primer
because it sticks really well to plastic and gives a great matte gray finish with a bit of texture.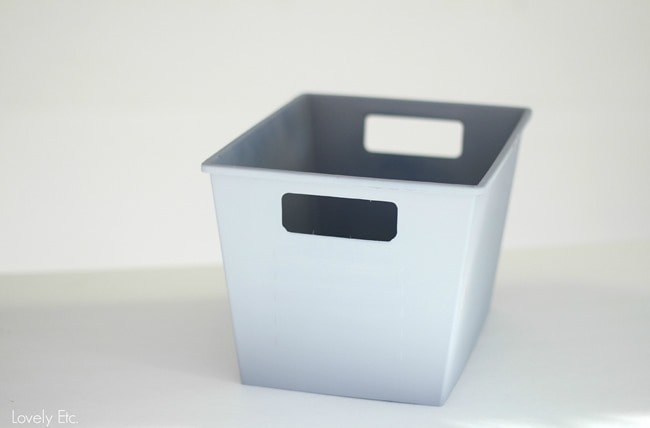 Once the primer was dry, I pulled out the chalkboard paint
. Chalkboard paint
also has a nice matte finish with some texture. I used a foam brush
to rub a thin coat of chalkboard paint on and then immediately wiped the excess off with an old rag.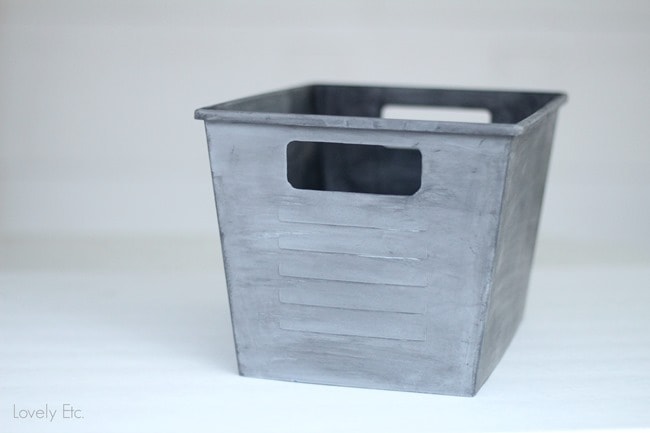 The final step was to add a hint of shine. I used some silver craft paint
and a chip brush. I just barely loaded a small amount of silver paint onto the ends of the brush and then wiped the excess off onto a paper towel before lightly dry brushing it onto the bins.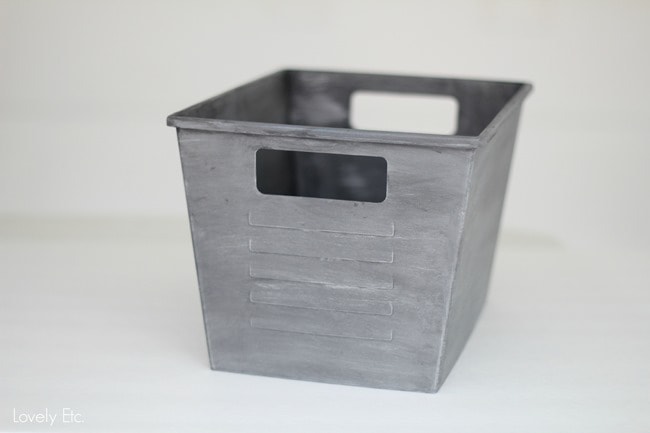 The final effect looks pretty authentic to me! And super affordable. The bins and buckets were each a dollar. I had all of the other supplies on hand but even if you had to buy them, you should be able to pick up all three paints for around ten dollars. Not a bad deal – especially if you are planning to do several bins at once.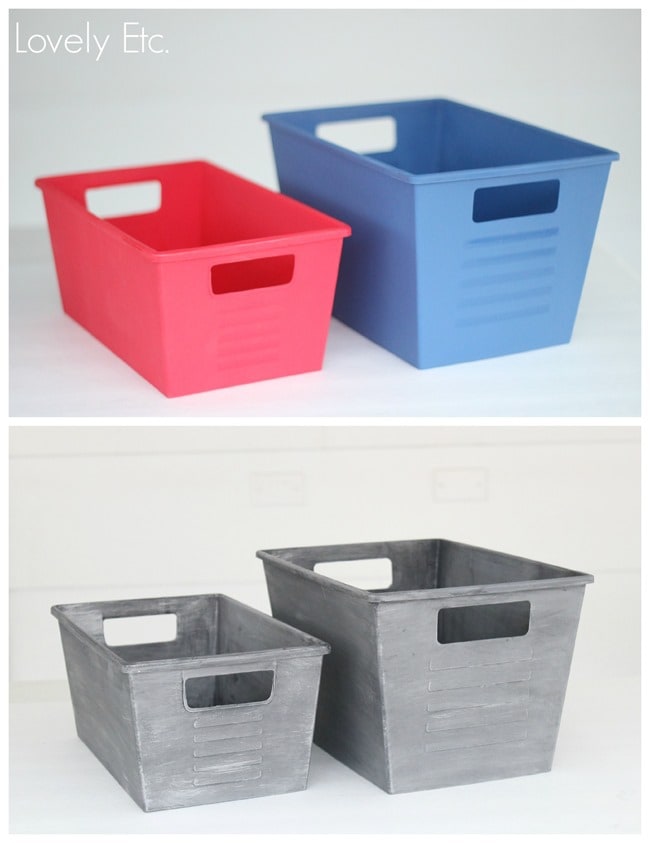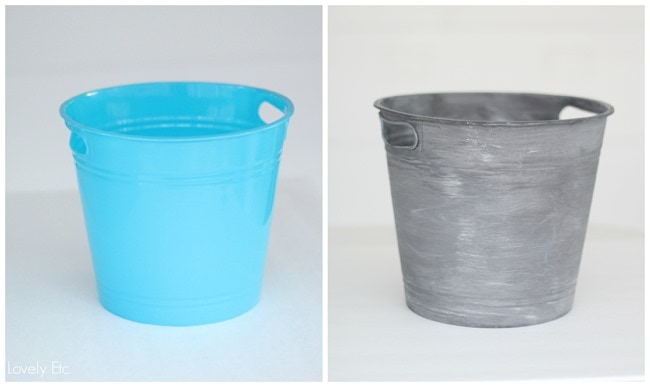 I'm still deciding where these are going to find their permanent homes, but for now, I'm using one locker bin to corral some books on our bookcase.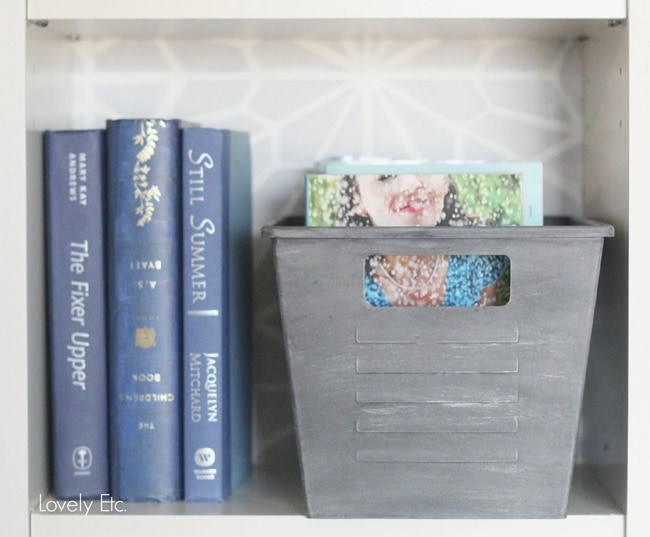 And the bucket is the perfect size to hold our winter hats and mittens.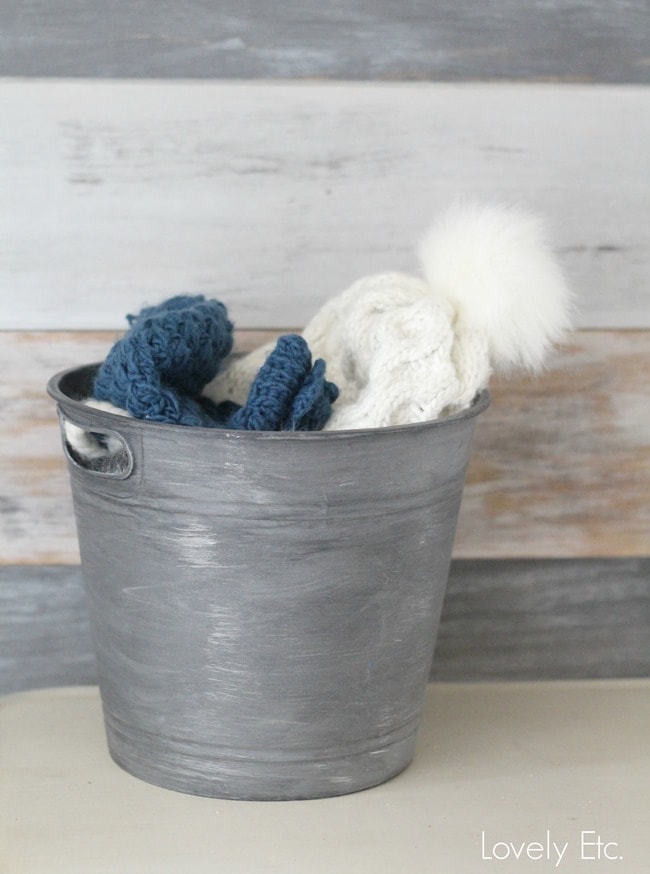 The next time I am at the dollar store, I am definitely going to be looking around with a more open mind, looking at all the possibilities!
If you love inexpensive DIY and craft ideas like this one, I'd love for you to follow along with me on Facebook, Instagram, and Pinterest.